Happy Pride month! As you probably know, the rainbow flag is synonymous with this celebratory time that honours and uplifts the 2SLGBTQIA+ community. You'll often spot it in the windows of people's homes, on bumper stickers, pins, blowing in the wind on flag poles in addition to apparel like t-shirts and backpacks. This flag symbolizes unity, acceptance, and the fight for equal rights and when it's displayed, it's a way of showing support for the Queer community.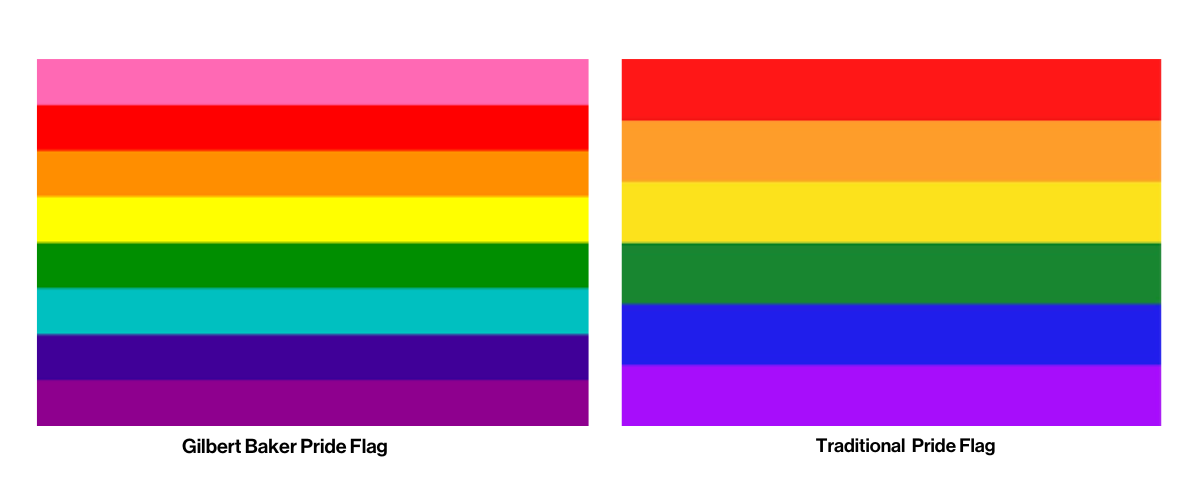 Designed by drag queen Gilbert Baker and dye artist Lynn Segerblom—at the urging of Harvey Milk (one of the first openly gay officials appointed to public office in the U.S.)—the original Pride flag debuted in 1978 at San Francisco's Gay Freedom Day Parade. This first iteration of the flag (also known as the Gilbert Baker Pride Flag) had eight colours on it with each shade representing its own meaning. Shortly after the flag's debut, two of the eight colours were dropped from the design (hot pink and turquoise, due to difficulties in manufacturing those shades) to reveal the six coloured flag that's commonly used today.
While the six striped Pride Flag is often used to represent LGBTQIA2S+ individuals, there are now multiple flags that specifically represent different groups within the community.

Bisexual Pride Flag
Created by bisexuality activist Michael Page in 1998, this flag has three horizontal stripes—pink, purple and blue—and represents bisexuality. The pink stripe is for attraction to the same gender, blue for the attraction to a different gender, and the purple represents attraction to two or more genders.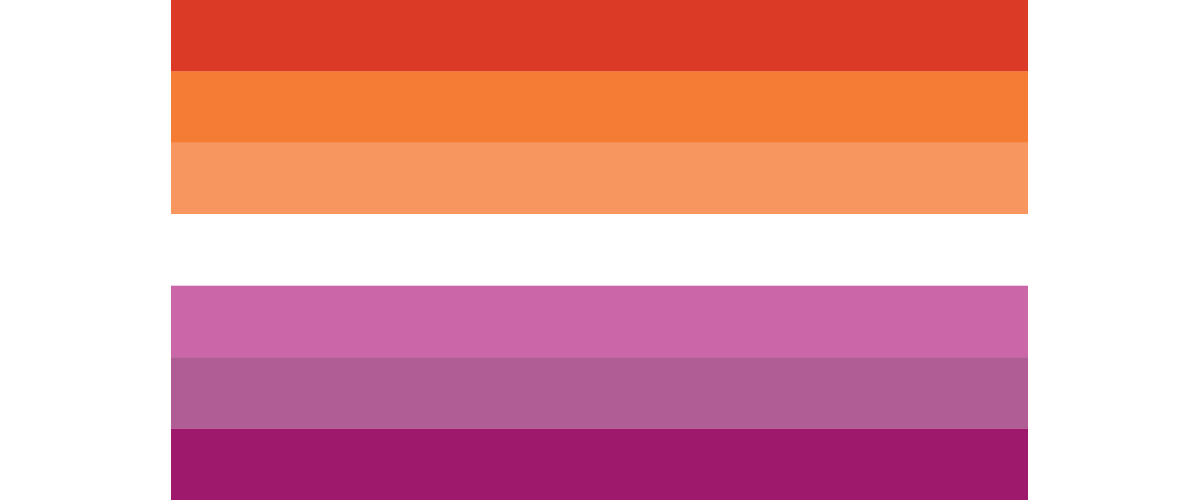 Lesbian Pride Flag
This Pride Flag was created in 1999 by graphic designer Emily Gwen. Her goal was to create a symbol for the lesbian community. This flag has seven horizontal stripes: three stripes of gradient red and orange, one stripe of white and three stripes of gradient pink. The shades of orange represent gender non-conformity and community, the white stripe represents unique relationships to womanhood, while the shades of pink are for serenity, peace and femininity.

Transgender Pride Flag
Transgender activist and US Navy Veteran Monica Helms created this Transgender Flag in 1999. She created the flag—consisting of five horizontal stripes of blue, pink, white, pink, blue—as a symbol to celebrate and empower transgender people, including the diversity within the community and the rights that transgender folks are still fighting for. The light pink and light blue stripes represent traditional colours for male and female and the white stripe is for those transitioning, are intersex or are non-binary.

Pansexual Pride Flag
Graphic artist Jasper Vardey created the Pansexual Pride Flag in 2010 as he wanted to create a standalone symbol for the pansexuality community. You can spot this flag by its three horizontal stripes in pink, yellow and blue. Just like the Polysexual Pride Flag with pink and blue representing attraction to those who identify as female and male, the yellow stripe is for attraction regardless of gender.

Asexual Pride Flag
First introduced in 2010 by a group of asexual activists, this Pride Flag was created to empower the asexual community. Consisting of four horizontal stripes in black, grey, white, and purple, black represents asexuality, gray is for the grey area between asexuality and sexuality, white for sexuality and lastly, the purple stripe represents community.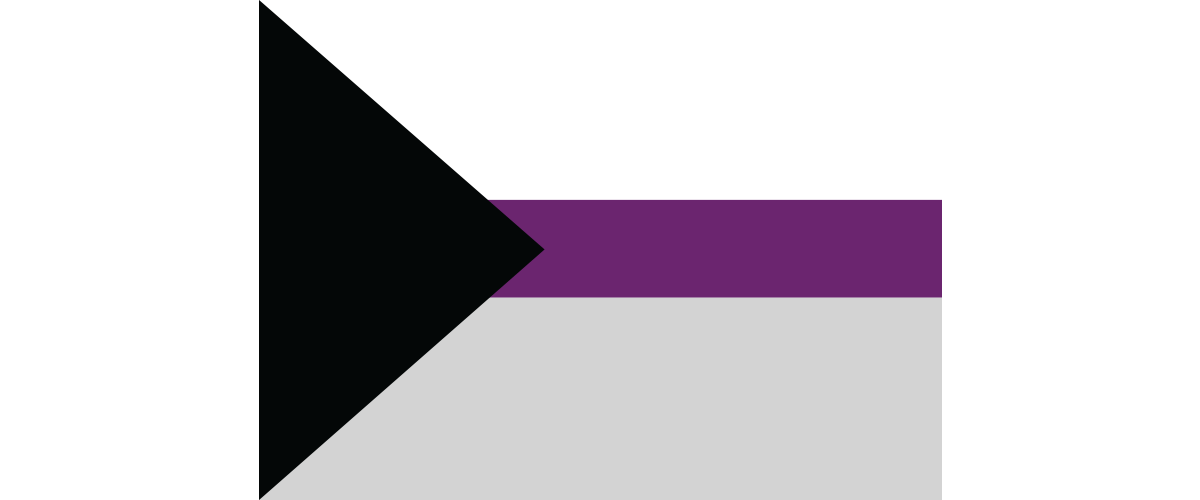 Demisexual Pride Flag
While it is not known when the Demisexual Pride Flag was created, it is suspected that its design was inspired by the Asexual Pride Flag which was created in 2010 (see above) as it uses the same colours but in different shapes. Demisexual identity is where a person forms sexual attraction to someone else only after they have established a deep emotional connection to that person. At the top of the flag is a white stripe, which represents sexual attraction, and below it sits a small purple stripe, which represents community, then a large grey stripe at the bottom for demisexuality. Lastly, there's a black triangle at the left-hand side of the flag which represents asexuality.

Genderqueer Pride Flag
First introduced in 2011 by genderqueer activist Marilyn Roxie, the Genderqueer Pride Flag was created to represent those who identify as a combination of genders or who have a gender that is outside the traditional male and female binary. The flag consists of three horizontal stripes: purple, white and green with purple representing androgyny and other queer identities, white for agender identities or having no gender and green for those who are non-binary.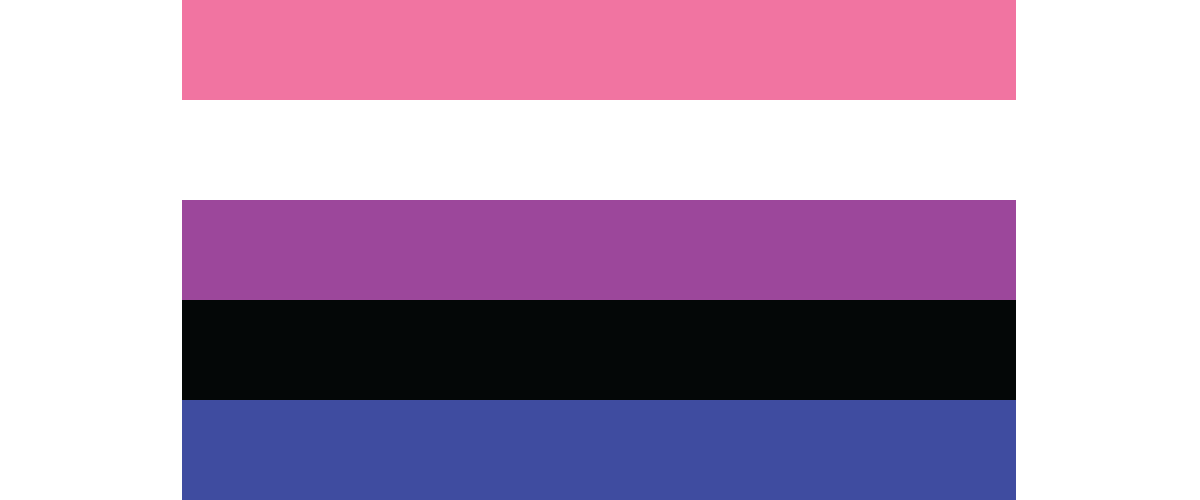 Genderfluid Pride Flag
In 2012, genderfluid activist JJ Poole first introduced the Genderfluid Pride Flag. It was created to celebrate people who have a gender identity that is not fixed and can fluctuate in different circumstances and/or over time. This flag has five stripes in colours of pink, white, purple, black and blue and each one represents a different part of the genderfluid community. Pink is for femininity, white for neutrality, purple for a combination of male and female genders, black for the absence of gender and blue for masculinity.

Polysexual Pride Flag
In 2012, Tumblr user Samlin created the Polysexual Flag, and it was introduced to differentiate polysexuality from bisexuality and pansexuality. This flag has three horizontal stripes in pink, green and blue. Pink represents attraction to female-identifying people, the blue for attraction to those who identify as male, and the green stripe is for attraction to people who identify as non-binary or other genders.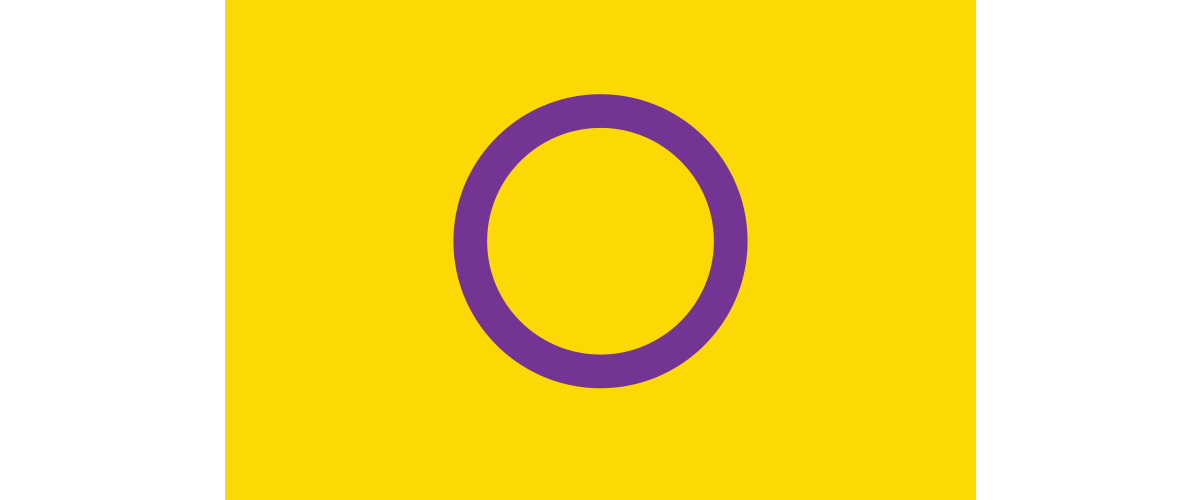 Intersex Pride Flag
This Intersex Pride Flag was designed by intersex activist and organization founder Morgan Carpenter in 2013. This flag was created to empower the intersex community which consists of people who are born with reproductive traits or sexual anatomy that are outside of the male-female binary. There have been changes made to the Intersex Flag over the years, but this version is yellow with the outline of a purple circle on it—two colours that are seen as gender neutral.

Nonbinary Pride Flag
The Nonbinary Flag was created in 2014 by nonbinary activist Kye Rowan to represent people who don't identify with either binary gender or those who don't identify within the binary in general. With stripes of yellow, white, purple and black, each colour has a different meaning: yellow for gender outside the binary, white for those who have multiple or all genders, purple for those who are both female and male identifying while the black stripe represents those with no gender.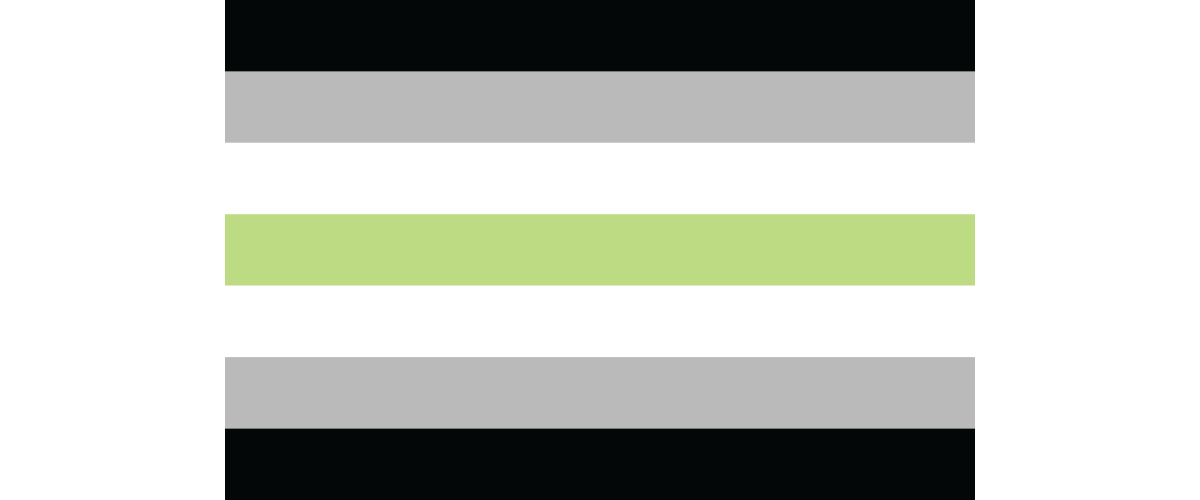 Agender Pride Flag
Salem X created the Agender Pride Flag in 2014 and it represents people who don't identify with any gender, are gender neutral or have no gender. The flag has seven horizontal stripes, two black stripes at the top and bottom of the flag, two grey stripes above and below the black, two white stripes next to grey and a green stripe in the middle. The black and white stripes represent the absence of gender, the grey stripes are for those who are semi-genderless, and the green stripe represents non-binary folks.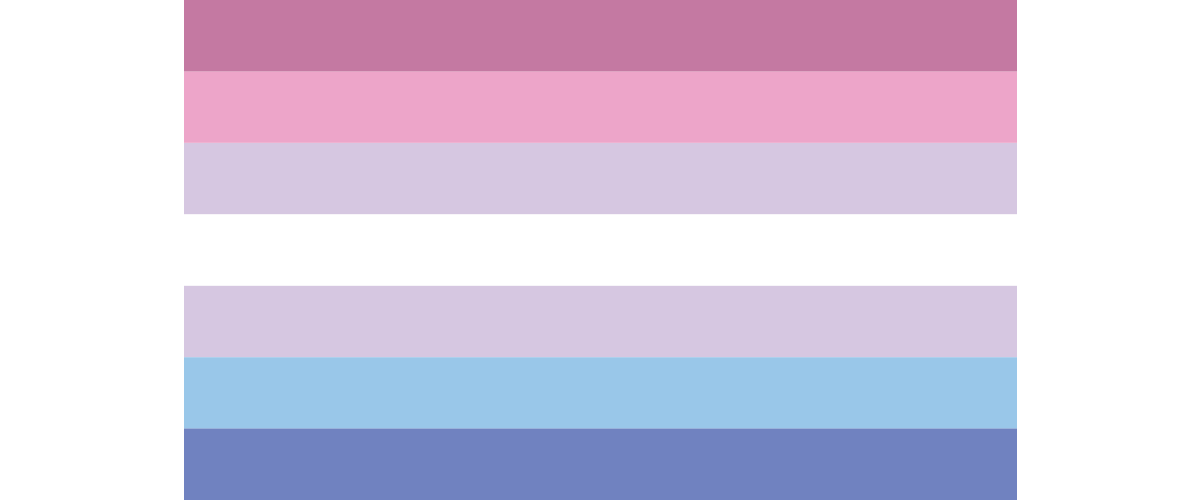 Bigender Pride Flag
Currently, there are multiple variations of the Bigender Pride Flag. This flag, created in 2014 by Tumblr user 'no-bucks-for-this-doe,' is one of the more commonly used versions. It represents those who identify with two genders, whether that's male and female or outside of the gender binary. This flag has seven horizontal stripes in two shades of pink, two stripes in one shade of purple, one of white and two shades of blue. While there's currently no written explanation to explain what each colour means, it iswidely thought that the pink and blue stripes represent the feelings of identity, the top purple stripe is for good relationships, the white stripe is for unique bigender experiences, and the bottom purple stripe is for pride.

Androgyne Pride Flag
There's more than one Androgyne Pride Flag, but this one was believed to be introduced in 2014 by a Tumblr user by the name of 'saveferris.' The Androgyne Pride Flag represents individuals who display a combination of masculine and feminine characteristics or someone who's gender identity is androgynous. Androgyny may be referring to gender identity or expression or biological sex. The flag consists of three vertical stripes in pink, purple and blue with the meaning of the pink stripe being femininity, the blue stripe being masculinity and the purple stripe in the middle representing a blend of both genders.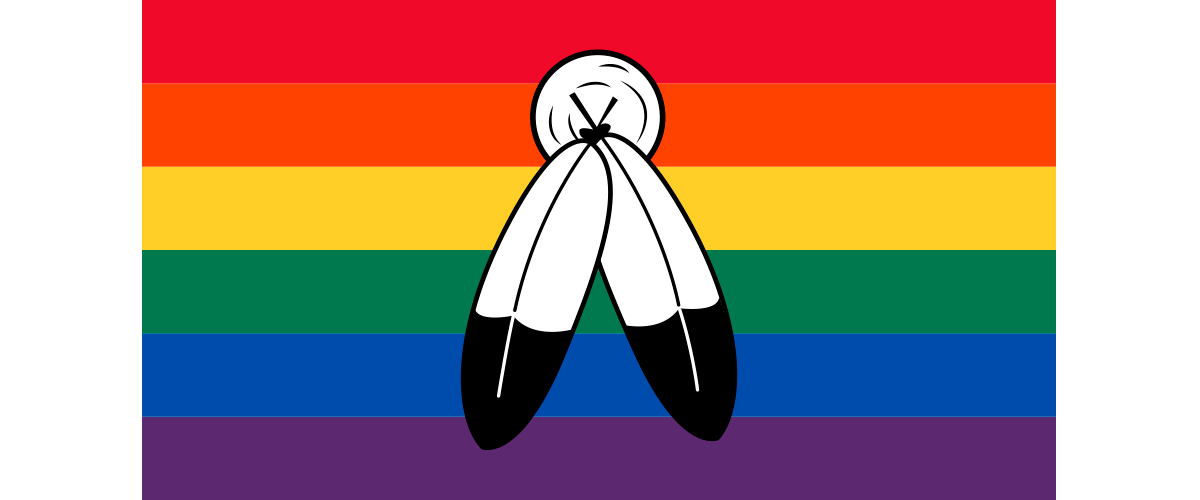 The Two-Spirit Pride Flag
This flag represents Indigenous American that identity as two-spirit individuals meaning they fall outside of the M-F binary. Tumbler user '2Sanon' developed the most seen two-spirit flag and was submitted to ask-pride-colour-schemes on December 17, 2016. The feathers represent masculine and feminine identities. The circle signifies the unification of both identities into a separate gender while the rainbow represents modern queer identities.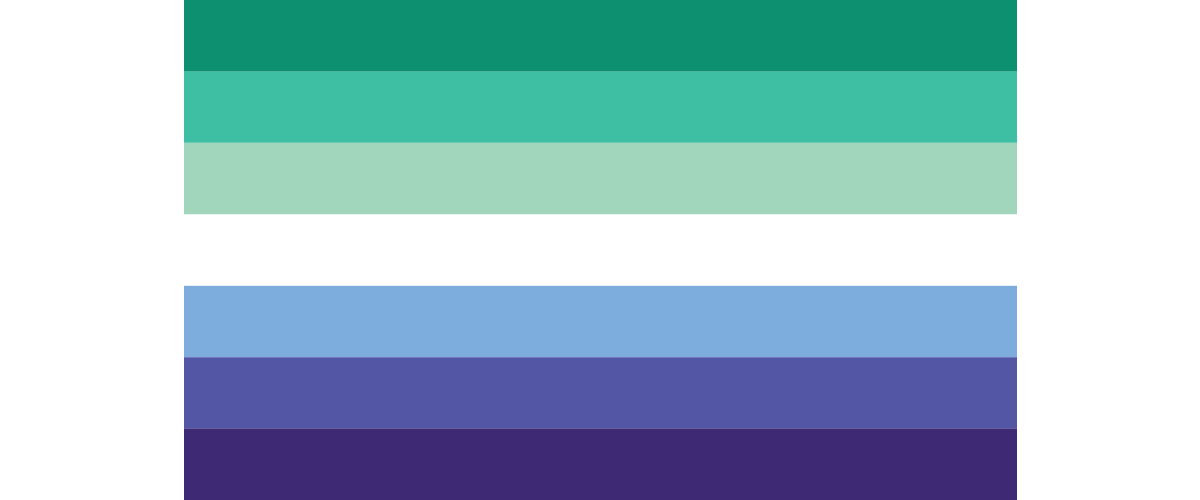 Trans-Inclusive Gay Men's Pride Flag
This version of the Gay Men's Pride Flag is the second iteration, and its time of creation is unknown. It has seven horizontal stripes in different shades of green and blue, along with a white stripe in the middle. The flag now includes representation for non-cisgender gay men.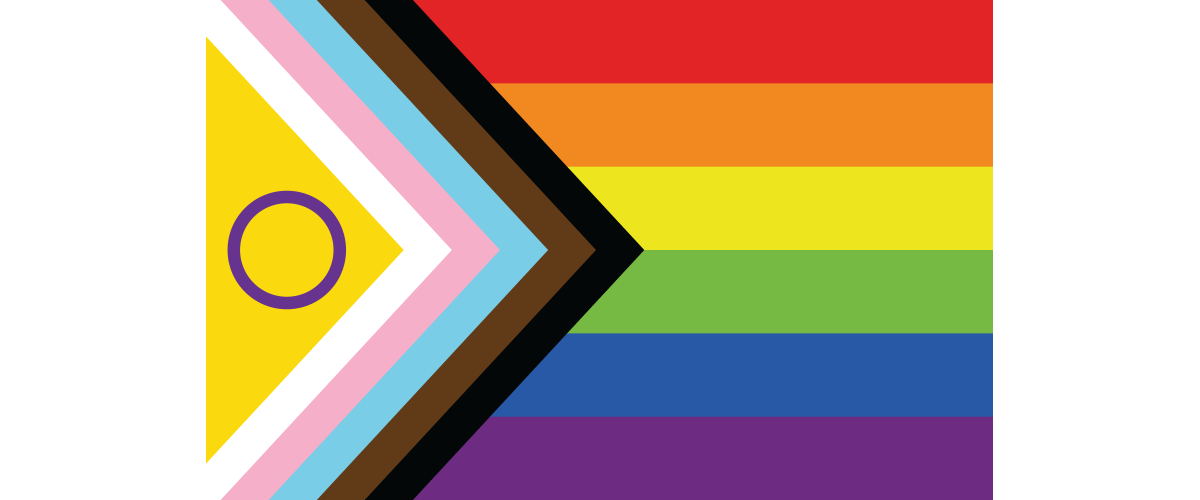 Intersex-Inclusive Progress Pride Flag
This flag has had a few iterations. In 2018, Portland-based artist Daniel Quasar designed the Progress Pride Flag, which was the rainbow stripes of the Pride flag, plus triangle stripes of white, pink and blue for the transgender community, along with black and brown triangle stripes to represent marginalized people of colour. In 2021, it received an update by Valentino Vecchietti to include a yellow triangle and purple circle to call back to the original 2013 Intersex Pride Flag.